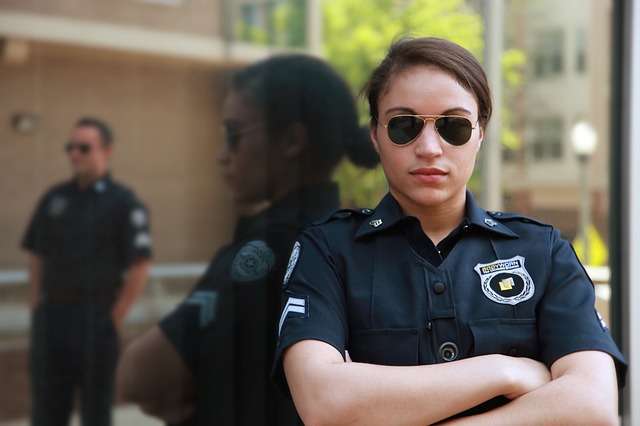 SECURITY PROFESSIONALS
It is important that security professionals are prepared to handle any threatening situation at the workplace. The Workthreat Group works with security personal to ensure they have the proper training needed to prevent and handle any violence or threats in the workplace.
WORKPLACE VIOLENCE PROGRAM
Workplace violence is any act or threat of physical violence, harassment, intimidation, or other threatening disruptive behavior that occurs at the work site.
OSHA recommended elements of an effective violence prevention program:

Management commitment and employee involvement

Worksite analysis

Hazard prevention and control

Safety and health training

Record keeping and program evaluation
American National Standard Institutes Elements of a Workplace Violence Prevention Program:

Clearly defines unacceptable behavior prohibited in your policy, consistent with the definition of Workplace Violence.

Requires the prompt reporting of suspected violations of the policy and of any circumstances that raise a concern for safety from violence.

Assure employees that reports made under the policy will be treated with the highest degree of discretion and will promptly be investigated .
So what do you need to look for?

There are numerous traits often listed – loner; becoming withdrawn; blames others for issues; doesn't accept responsibilities; etc.

However, there is no one trait more important than another

These traits, at best, might be compared to "probable cause"
Types of Serious Injuries and Deaths from Workplace Violence – so you must do something immediately
Physical Assaults

Beatings/ stabbings

Shootings

Rapes
Attempts to cause physical harm, i.e.., striking, pushing, or other aggressive acts against another person

Aggressive Acts Which May Indicate Risk so you must do something quickly

Disorderly conduct, such as shouting, pushing or throwing objects, punching walls, or slamming doors

Verbal threats to inflict bodily harm including vague or overt threats

Fascination with guns or other weapons, demonstrated by discussions or bringing weapons to workplace



Other Aggressive Acts To Consider… here you must do something soon

Obscene phone calls

Intimidating presence

Harassment of any nature
DISGRUNTLED EMPLOYEE
When dealing with disgruntled employees it is recommended that you follow these communication tips to reduce the chance of a violent incident.

Recognize signs of anger before it reaches a critical point

Always remain calm

Show empathy

Express concern for the patient's feelings

Allow the patient to cool off

Use "I" statements instead of "You" statements

Suggest an activity that might divert the anger from feeling angry

Stay at a safe distance and do not invade a patient's personal space

Observe non-verbal communication

Soften Requests
BULLYING/ HARASSMENT
A worker is bullied at work if:

a person or group of people repeatedly act unreasonably towards them or a group of workers

the behavior creates a risk to health and safety.

Unreasonable behavior includes victimizing, humiliating, intimidating or threatening. Whether a behavior is unreasonable can depend on whether a reasonable person might see the behavior as unreasonable in the circumstances.

Examples of bullying include:

behaving aggressively

teasing or practical jokes

pressuring someone to behave inappropriately

excluding someone from work-related events or

unreasonable work demands
Why be concerned about bullying in the workplace?

Studies show that productivity, teamwork and creativity are destroyed. Absenteeism, turnover and conflict increase in a bullying workplace.

Laws are forthcoming on this topic – recent law in Australia supports up to 10 years in jail for someone convicted of bullying.

Personal liability can exist, even in an organization, if it can be showed that you knew – or should reasonably have known – that bullying was taking place.
Cyber-Bullying: When Bullies Use Technology

According to the National Crime Prevention Council, cyber-bullying occurs "when the internet, cell phones or other devices are used to send or post text or images intended to hurt or embarrass another person."

While bullying in the workplace usually pits one bully against one target, cyber-bullying can easily take the form of cyber-mobbing where you have many people against one target.

All that workplace bullies need to know is your email address or phone number. They can remain anonymous under an assumed email identity, or block their number when calling you.
ACTIVE SHOOTER
In a study done by the FBI of a 160 active shooter incidents in the United States between 2000 – 2013

Liability
There is case law that specifically suggests employers are responsible for not responding to probable threat patterns, even if committed by an outside 3rd party. (OSHA ruling of shooting at Univ. of Pitt. Psych Clinic in March of 2012)
The 2013 report commissioned by OSHA says that Western Psychiatric Institute and Clinic of the University of Pittsburgh Medical Center didn't put enough emphasis on protecting its employees from attacks. It went on to say that workplace violence prevention efforts are completely overshadowed by patient safety at the hospital. The clinic has subsequently spent about $10 million to upgrade security and workplace safety.
So what do we know about an active shooter?

Behavioral Concerns

History of threats or violent acts.

Threatening co-workers, students or others.

Verbal abuse of co-workers, customers, students or others.

Harassment through phone call or email.

Bizarre comments

Frequent aggressive outbursts.

Excessive displays of temper.



Triggering events that could lead to violent acts of aggression.

Termination or layoff.

A reprimand.

Financial troubles.

Family problems.

Separation.

Divorce.

Death.

Personal or professional loss.
Other things to now about an active shooter

They generally assault persons with whom they have had prior contact.

There has often been expressions of hatred or rage rather than contemplating the commission of a crime

They will always engage more than one target

Killing a number of people as quickly as possible, psychologically to diminish their own self-perceived pain

They are often trying to "beat" a previous record

They prefer to go to a location where there are numerous potential victims.

They will continue their attack despite the arrival of emergency responders

They are often better armed than the police

Explosives, booby traps, body armor and even diversions

They have always planned the attack

Prepared for a sustained confrontation with police

Escape is usually not a priority

They generally have already decided to die in the course of their actions – it was part of the plan

It may either be at the hands of others or self-inflicted wound
ENVIRONMENT ASSESSMENTS
Research has shown that criminals seek out locations that provide opportunities and less risk of being caught. Honest citizens prefer the opposite. Those whose emotions are running high can either feel a calming effect or more frustration simply by the surroundings. This has produced a whole new "science" for added management of locations. Law enforcement has coined the term "Crime Prevention Through Environmental Design (CPTED).
The Workthreat Group offers an approach to EDIT (Environmental Design Influences Threats) in order to evaluate your organization's surroundings. These methods are generally low cost and are designed to your specific needs. They are designed to constrain criminal activity, lessen the potential for threatening behavior and at the same time, encourage positive conduct on the part of the usual employee/client/customer contact. Additionally, and we think most importantly, personnel within the organization are interviewed and included in the total assessment process.
Looking at an environment from this perspective focuses on what can go right with an environment. The proper design and effective use of your environment can manipulate human behavior, particularly crime and aggressive behavior. Additionally it encourages productivity, creativity and collaborative efforts from all.
Some of the EDIT techniques include evaluating lighting, both inside and outside; assessing restrooms, hallways and empty offices for hiding places or unsafe conditions; and reviewing the access to buildings, safe rooms and other areas normally thought to be protected. The Workthreat Group may also look at how you restrict and/or direct movement of vehicles and people as well as provide natural surveillance opportunities for persons to view their surroundings. This allows for employees to become actively involved in their personal safety so they can feel in control and they can be part of the solution, not just a victim of the problem.
EXECUTIVE PROTECTION ASSESSMENTS
WHAT IS THE PURPOSE OF AN EXECUTIVE PROTECTION (EP) PROGRAM?
An EP program is designed to establish guidelines for minimizing the risk of and, if necessary, reaction to criminal, terrorist, and those wishing to smear the image of specific individuals and their immediate families; in their offices, residences, commuting and while traveling domestically and internationally. An EP program and risk assessment process should ensure appropriate security protection commensurate with any identified terrorist, criminal or other threat in any environment – including the internet.
WHY IS AN ASSESSMENT NECESSARY?
Besides the obvious reasons behind wanting to make sure the EP program is appropriate, there is always a consideration of cost, as an EP program can become very costly, very quickly. Often times a Corporations Board of Directors will order such a review for similar reasons and to comply with its mandate of due diligence. And lastly, individuals feel the need for such a program and they want to ensure they are getting the most qualified personnel that can actually do the job effectively as well as efficiently.